"James is a great guitar teacher. It is easy to schedule a lesson with him. He is always very encouraging, positif, and knowledgeable. Each lesson is good fun!"
Fill Out Your Information To Download The Info Packs!
As a private music teacher and tutor, James works individually with each guitar learner and improver. First and foremost, to foster a love of music, the student chooses the style that he or she wishes to learn. Next, the  lessons establish a pace that allows him or her to acquire and develop new skills while enjoying the music. Personalised online video feedback is available for students who do not have time to attend lessons regularly. Using helpful and detailed video recordings, each student can practise and refine his or her skills at a time and in a place that best suits them.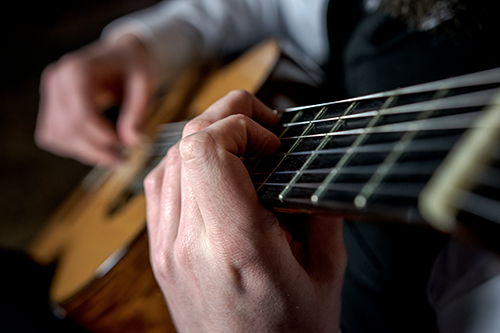 Although James is primarily a classical guitarist, he also teaches multiple styles such as rock, blues and folk across acoustic and electric guitar. Whether students' lessons are for individual and primarily for musical enjoyment, or in a group class for grades and theory, James is committed to musical research as well as staying up to date with teaching techniques and learning methods, to help students to improve their ability and gain more from music. For further details call James on 085 2425615 or click here.
Get One Free Guitar Lesson
Whenever you refer someone who books five or more lessons.
Use this lesson for yourself or give it as a gift.
Children
This guitar course is designed for children aged 13 and below. This fun method focuses on building a strong and balanced musical foundation that will help them in all styles of music in future years. The essence of this approach is to take important material,  and present it in a fun and exciting way so music doesn't become a chore for the young student. By using simple melodies and patterns found in selected children's songs, they will develop all the essential skills, Including: Aural Training, Sight-Reading, Scale & Chord Knowledge, Rhythm Training, and Composition.
Adult Beginner
Anyone can play music and it's never too late to start! A more personal touch is used in the Adult Beginner course. Firstly, we will set realistic goals and create a program to learn guitar effectively, Secondly, we learn songs based on the music you love to listen to, such as blues, rock, country, classical, etc. This is an important factor as it helps to keep you motivated. Finally, I will provide solutions to any technical difficulties you will face as a guitar learner. Musicians face different challenges all time when learning music, so as a beginner, it is important to get a good teacher to help you overcome these challenges with the greatest ease and provide you with useful strategies to continue to progress.
Parent & Child
A class for both the parent and child to play guitar together and bond in an enjoyable activity that improves their skills as aspiring guitarists. This is becoming a popular option since it was introduced because of the incredibly fun nature of it.The focus of this class if for both the parent and child to play two individual parts together. For example, the parent might strum chords while their child plays the melody. This will make practicing at home very enjoyable and increase your motivation to learn guitar.
Group
Group classes can be an excellent way to learn guitar. A group can consist of anywhere from two-eight students, usually organised by a group of friends. There are two approaches I use for group classes. The first is to teach everyone the same song. This can be very effective because everyone can help each other inside and outside the class, so if you are finding something difficult to play or remember, you'll have someone else there to support you. The second approach involves giving out different guitar parts for one song. For example, If we had a group of four, we could give two people the melody line and two people the accompaniment. This is also a great way to do these classes as it adds a level of motivation to learning your parts, as it will be needed to play the song. Overall, group lessons are very fun and an excellent social activity!
Grades
Grades can be helpful to measure your progress on an instrument and set achievable goals! Go through a course of guitar grades at your own pace with music that suits you. Grades are available for everyone to pursue and can be acquired through classical guitar, electric guitar, or acoustic guitar. For more information on which styles can be graded through LCME , please follow the link here.

Style
Currently, I teach various styles such as finglerstyle, classical, country, blues, rock, etc. These styles are taught on classical, acoustic, and electric guitar. Personally, I have such a wide taste in music so I am more than happy to listen to a new style or artist, figure it out teach it to whoever is interested. There is an example in the final tab "Example of Music" which shows how I will transcribe a song and notate it. This helps me to keep track of the large amounts of songs I have to do weekly and helps me to demonstrate it to students
Example of Music
It is optional to learn to read music as part of the lessons. When someone wants to learn a song, I prepare the music for them in this format. This is can be done for any song and as part of the lessons you will be taught how to read this page of music, which consists of both standard music notation and guitar tablature. Learning to understand this information will assist you in learning songs correctly without the guitar teacher present and will also aid you in learning new songs by yourself.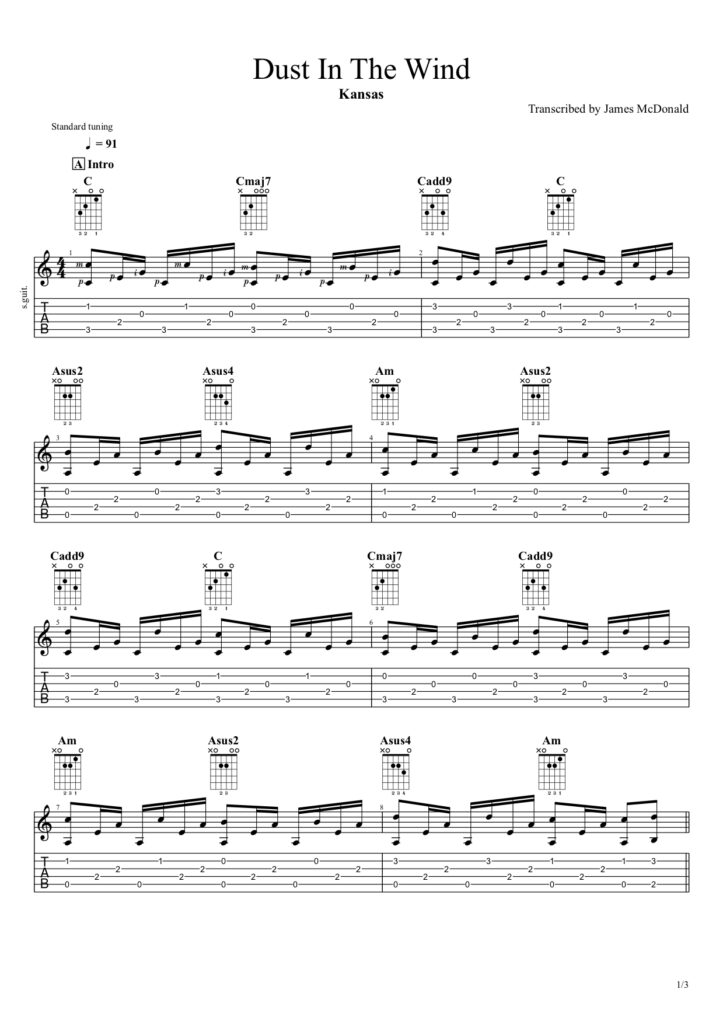 Apart from gaining skills directly relating to music, you will also benefit in other aspects of your life. This applies to young and old and should be considered when pursuing a new skill.