"James is a great guitar teacher. It is easy to schedule a lesson with him. He is always very encouraging, positif, and knowledgeable. Each lesson is good fun!"
Introduction To Guitar
5 Lessons 30 minutes each
€80
Max 6 Students
Ideal for students who have no experience with guitar lessons. Everything is provided for 5 weeks with no additional costs
Small-Group (30+ Minute Lesson)
Per Lesson (Billed By Term) From:
€15+
Max 6 Students
Ideal for students who have completed the "5-Week Introduction To Guitar Course" and want to progress further
30 Minutes
Per Lesson (Billed By Term)
€25
Payment Plans Available
A private lesson designed for you and your specific goals. Ideal for students who want to progress at their own pace
Fill Out Your Information To Download The Info Packs!
As a private music teacher and tutor, James works individually with each guitar learner and improver. First and foremost, to foster a love of music, the student chooses the style that he or she wishes to learn. Next, the  lessons establish a pace that allows him or her to acquire and develop new skills while enjoying the music. Personalised online video feedback is available for students who do not have time to attend lessons regularly. Using helpful and detailed video recordings, each student can practise and refine his or her skills at a time and in a place that best suits them.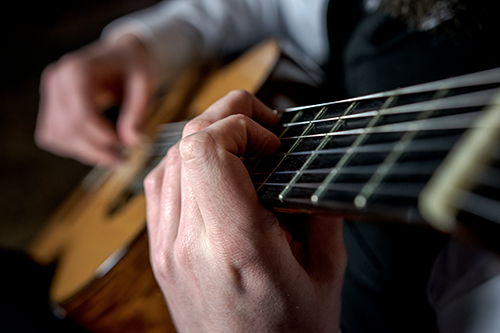 Although James is primarily a classical guitarist, he also teaches multiple styles such as rock, blues and folk across acoustic and electric guitar. Whether students' lessons are for individual and primarily for musical enjoyment, or in a group class for grades and theory, James is committed to musical research as well as staying up to date with teaching techniques and learning methods, to help students to improve their ability and gain more from music. For further details call James on 085 2425615 or click here.
Whenever you refer someone for Group Guitar Lessons.
Children
This guitar course is designed for children aged 13 and below. This fun method is based on grades, which focuses on building a strong and balanced musical foundation that will help them in all styles of music in future years. The essence of this approach is to take important material and present it in a fun and exciting way so that music doesn't become a chore for the young student. By using simple melodies and patterns found in pop and rock, they will develop all the essential skills, Including Aural Training, Sight-Reading, Scale & Chord Knowledge, Rhythm Training, and Composition.
Adult Beginner
Group
Grades
Style
Example of Music
Apart from gaining skills directly relating to music, you will also benefit in other aspects of your life. This applies to young and old and should be considered when pursuing a new skill.